The seventh edition of the Malta iGaming Seminar (MiGS) was launched on 30th July, 2015 in the presence of Hon. José Herrera, Parliamentary Secretary for Competitiveness and Economic Growth and Mr Joseph Cuschieri, Executive Chairman of the Malta Gaming Authority (MGA) at the Mistral Suite and Terrace at the Marina Hotel Corinthia Beach resort.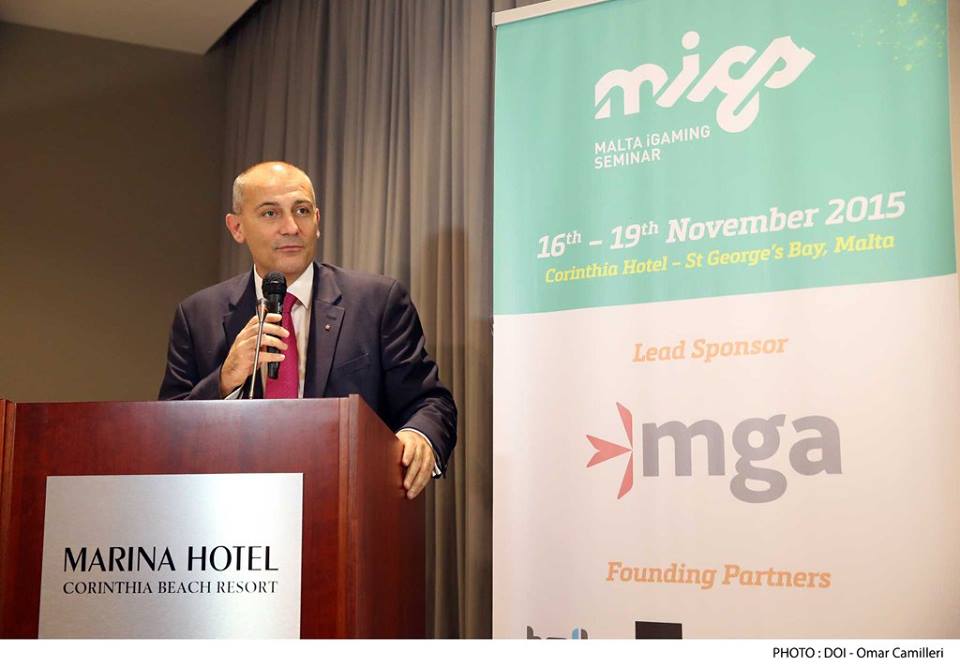 The MGA's Executive Chairman, Joseph Cuschieri
This year's MiGs will be held at the Corinthia Hotel, St. Julian's between the 16th and 19th of November.
Speaking on behalf of MiGS, Jeffrey Buttigieg, Director of MiGS and COO of RE/MAX Malta, thanked all attendees and collaborators for providing their support to the event. "Founded in 2008, today MiGs has become globally recognized as a must-attend conference on the iGaming Calendar.  Over the last two years, the event has seen a transformation and has matured into a top-ten event, as quoted by Calvinayre.com, a major iGaming online portal. Last year, the event was especially successful as we attracted over 450 delegates to MIGS14 and we started seeing the fruit of our labour during the previous five years," Mr Buttigieg stated.
One of the highlights of the upcoming event in November – in line with the conference theme, "Past, Present and Future of iGaming" – will be hosting a panel that will include four remarkable pioneers of the industry that have a combined experience of over 100 years.  The event will also expound on a number of ensuing topics, including the latest EU directives, emerging jurisdictions, payments, advocacy as well as subjects of potential growth including Mobile gaming, eSports and others.
Mr Joseph Cuschieri, Executive Chairman of MGA, said that the Authority has supported MiGS from its humble beginnings, and congratulated the organisers for bringing together so many people for this launch.  He said that this proves that MiGS has a strong backing as he encouraged individuals to attend.
He added: "MiGS has not only played an important role in promoting the Malta Gaming industry over the years, but has also placed the country on the international gaming map, as a destination to attend a top level iGaming conference that attracts international executives."
Hon. José Herrera, Parliamentary Secretary for Competitiveness and Economic Growth stated: "I am honoured to be able speak at the launch of such an entrepreneurial initiative from the private sector. The Malta iGaming Seminar is a must-attend event and I'd like to thank the organisers for doing Malta proud."