The Malta Gaming Authority (MGA) hosted a full day gaming conference titled 'The Developing Landscape of Gaming Regulation. What next?', which was held on Friday 24 February, 2017 at the Hilton Portomaso Suite, St. Julian's Malta.
The conference followed an Expert Group meeting amongst the European gaming regulators held under the auspices of the European Commission which was held in Malta for the very first time. This high calibre event brought together advisors and regulators from all the global gaming spheres and provided an excellent opportunity for operators, suppliers, attorneys, investors, regulators and other stakeholders to meet and discuss key challenges facing the gaming industry today.
The opening of the conference was addressed by the Hon. Dr Emmanuel Mallia, Minister for Competitiveness, Digital, Maritime & Services Economy. The Minister's speech may be accessed from here.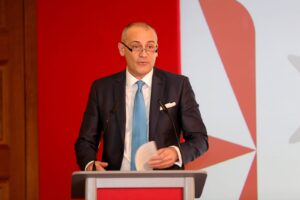 The MGA's Executive Chairman, Joseph Cuschieri delivered a keynote speech titled 'The Landscape for Gambling: Key Drivers of the Future', where he highlighted the importance of face to face discussions between key stakeholders to shape the future of gaming regulatory policy whilst taking the opportunity to learn from each other in balancing the needs of the industry. He also stressed the importance of the policy maker's regulatory objectives to reflect transparency, clarity and consumer protection focus in the context of a competitive international market with fast moving product development. Mr. Cuschieri's speech is available here.
The full packed agenda included three interactive panels titled 'A response from the Operators', 'Regulatory Wish List – Let's hear it from the Organisations' and 'Online Services – Lesson from a Pan-EU Sector'.
Amongst the key speakers, there was an update from Harrie Temmink, Acting Head, European Commission DG Internal Market, Nick Sohnemann, CEO at Future Candy whilst Wes Himes, Instinctif Partners was the hosting speaker throughout the conference. The agenda highlighting the speakers and panels may be accessed from here.