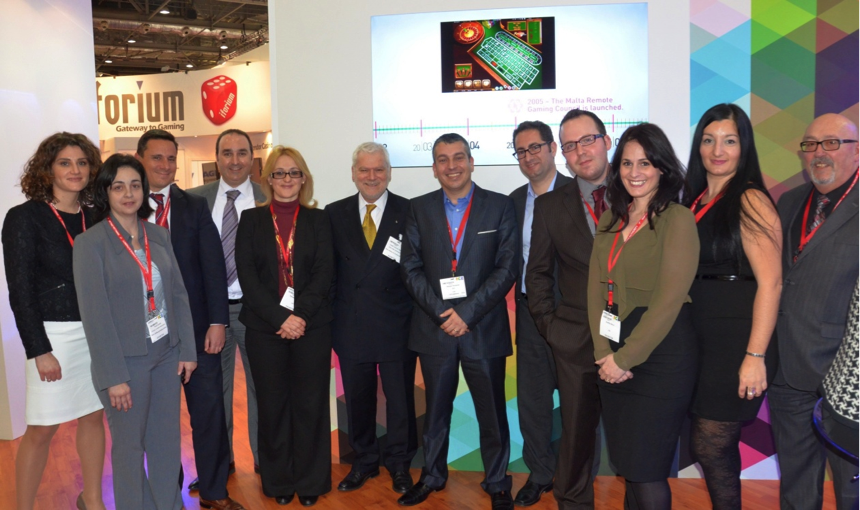 The Lotteries and Gaming Authority participated for the Tenth consecutive year in the World's largest and most important Gaming Expo, known as ICE, which was held between the 5th and 7th February 2013 at London's Excel Conference Centre. The LGA stand was yet again one of the pivotal points of attraction during  ICE 2013. ICE was attended by 40,000 visitors, with the LGA stand hosting around 100 meetings over three days.
LGA's CEO Reuben Portanier, said that ICE 2013 confirmed the strong interest in Malta, whereby some of the largest gaming operators confirmed their intention to obtain licenses from Malta. A large number of queries were also directed towards the upcoming regulatory framework covering Digital Games with Prize. Interestingly, a number of adjunct service companies, including leading independent testing laboratories, also presented their plans to locate testing and certification facilities in Malta, one of which actually opened shop last week.
The Malta stand also included Malta Enterprise who entertained queries and requests by operators planning to relocate to Malta.
Malta's High Commissioner to the UK, Mr Joseph Zammit Tabona, accompanied by LGA's Chairman, Mr Nick Xuereb, toured all the Maltese Licensed Operators and Service Providers which exhibited at the Expo and stated, "it is indeed quite remarkable to see such a predominance of Maltese Companies present at such an important event in the Gaming Industry's calendar and to hear so many positive remarks on Malta's serious regulatory approach."