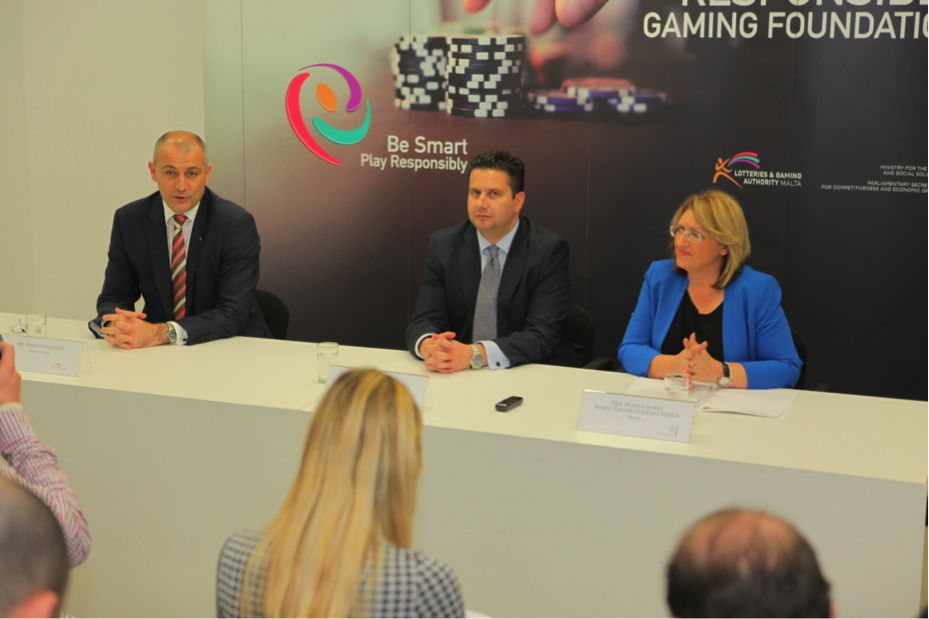 The Parliamentary Secretary for Economic Growth and Competitiveness Hon Dr Edward Zammit Lewis, the Minister for Family and Social Solidarity Hon Marie Louise Coleiro Preca together with the LGA Executive Chairman Mr Joseph Cuschieri launched the Responsible Gaming Foundation.
The conference was opened by Mr Cuschieri who explained that the launch of the Responsible Gaming Foundation is another link in a chain of new initiatives to consolidate the gaming industry in Malta from a wider perspective. Furthermore, he outlined the financing of the Foundation, which will be contributed from several sources including initiatives organised by the Foundation, European funds, contribution of €50,000 p.a. from the National Lotteries and contributions from the LGA
Hon Zammit Lewis highlighted the Government's commitment to promote responsible gaming through educational campaigns. Hon Zammit Lewis explained that the function of the Responsible Gaming Foundation is to administer the funds collected in order to support individuals that are suffering through pathological gambling, whilst organising projects to serve as rehabilitation for the victims of excessive gambling. Furthermore, the Foundation shall embark in active research about excessive gambling.
On her part, Minister Coleiro Preca said that the Foundation is an important step in the Government's integrated social policy whilst emphasising the importance of ensuring a holistic social policy that supports prevention of excess.